Aon / WTW unveil new Executive Committee for combined entity
Ahead of the proposed combination of global insurance and reinsurance brokerages, Aon and Willis Towers Watson (WTW), the companies have announced the new leadership team, led by Greg Case as Chief Executive Officer (CEO).
Aon-willis-towers-watson-logosIt was confirmed in March of 2020 that the pair had reached an agreement to combine in an all-cash transaction with an implied combined equity value of approximately $80 billion.
As the deal edges closer to completion, Aon and WTW have unveiled the new leadership team that will come together once the transaction is finalised to deliver "new sources of value to clients and create new opportunities for colleagues."
Case, CEO of Aon, commented: "Aon and Willis Towers Watson have a unique opportunity to create a combined firm that will make an even greater difference in the global economy and provide unparalleled experiences for our clients and colleagues.
"This talented team draws on the best of both from each organization and will be critical to delivering on the high aspirations we have for the new Aon."
John Haley, CEO of WTW, added: "As we learned more about each other's organizations, it became clear that a fundamental driver of our success will be leaders who fully embrace a one firm mindset. The willingness to put the needs of clients and the entire organization ahead of their part of the business and any individual priorities will be the key to unlocking the full potential of the planned combination for the benefit of all our stakeholders."
After the transaction is complete, Case will serve as CEO of the combined entity, while Christine Davies will serve as Chief Financial Officer (CFO).
Joining Case and Davies in forming the new Aon Executive Committee on the risk side of the business, as shown below, is Eric Andersen as President; Alexis Faber, North America CEO; Julie Gebauer as CEO of Health, Wealth, and Career; Carlo Clavarino, Chair of International; Eduardo Davila, EMEA CEO; Lambros Lambrou as CEO of Commercial Risk; Adam Garrard, CEO Global Broking and President Commercial Risk; Lori Goltermann as Chief Client Officer; Julie Page as UK CEO; Andy Marcell as CEO of Reinsurance; James Kent as Deputy CEO, Reinsurance; Luis Maurette, Latin America CEO; Alejandro Galizia, Latin America President; and Anne Corona as CEO of Asia-Pacific.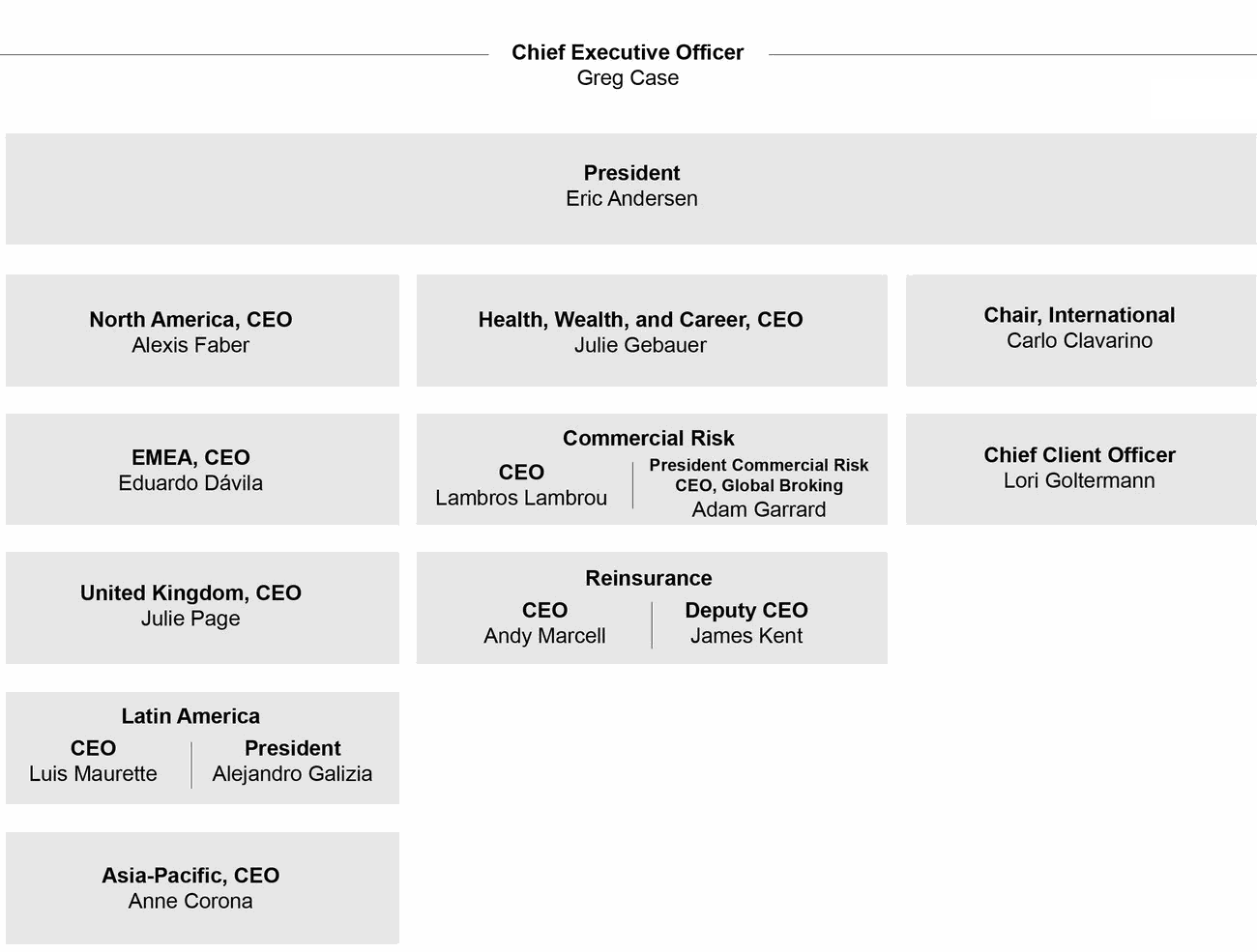 Aon states that the new Executive Committee will lead teams working in collaboration across regions, solution lines and functions in order to accelerate innovation and bring the best of the new entity that will be guided by a "one firm mindset".
On the operations side of the new Executive Committee, CFO Davies will be joined by Maggie Westdale as CFO, Business; Julie Gebauer as Head of Strategy; Anne Pullum as Chief Innovation Officer; Lisa Stevens as Chief People Officer; James Platt as Chief Operating Officer (COO); Katherine Gehman as Chief of Staff; Darren Zeidel as General Counsel; Andy Weitz as Chief Marketing Officer; and Pam Rollins will lead Internal Communications.
"All of the leaders we are announcing today are highly accomplished and true advocates of the one firm mindset that will be at the core of the new Aon. We are confident that our combined firm, with this leadership team, will help us address the most pressing areas of client need and provide compelling new opportunities for our colleagues," said Case.
With the deal expected to close in the first half of 2021, it's come under increased scrutiny from regulators as they try to determine whether the combination could have any negative effects on competition.
After a review, regulators suggested that Willis Re, the reinsurance arm of WTW, would have to be sacrificed for the deal to go ahead; something which is also deemed necessary by certain market participants.
Fuente: https://www.reinsurancene.ws/aon-wtw-unveil-new-executive-committee-for-combined-entity/